San Diego Lawyer: The ADA and the Failure to Engage in Interactive Process
California Disability Discrimination Attorney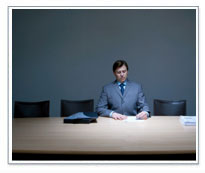 "The interactive process" is the formal term given to the usually informal discussions an employee and employer engage in to find a reasonable accommodation for an employee's disability. Reasonable accommodations for disabled employees are required by the Americans With Disabilities Act (ADA).
Just as failure to provide a reasonable accommodation is an ADA violation, failure to engage in the interactive process may itself be a violation of the ADA.
San Diego, California, Disability Discrimination Law Firm
Caietti Law Group, APC is an employment law firm with offices in San Diego and Temecula. We offer sound legal advice and results-driven representation to both employees and employers struggling with ADA-related issues. If you have questions about failure to engage in the interactive process, contact Caietti Law Group, APC to consult with a knowledgeable disability discrimination lawyer.
Failure to Engage in the Interactive Process: A Subjective Determination
The ADA does not provide any specific guidelines for how the interactive process should proceed or for what types of acts constitute failure to engage in the interactive process. What is important is for the employer to communicate regularly with the employee about possible accommodations and continue working together to find an accommodation that will work for both the worker and the employer.
Examples of scenarios that might constitute failure to engage in the interactive process under the ADA include:
Communication between the employer and employee completely breaks down
The employer refuses to discuss possible accommodations
The employer rejects a possible accommodation without giving any reasons for rejecting the proposal
The employer rejects a proposed accommodation that obviously does not constitute an undue hardship for the employer
In any of these situations, it is wise for the employee to seek legal advice — in order to understand his or her legal options and get assistance reviving negotiations with the employer. In the worst-case scenarios, the employee may end up filing a disability discrimination lawsuit.
Get Honest Advice and Skillful Representation From a San Diego Disability Discrimination Lawyer
Whether you are an employee or an employer, we urge you to contact us with your questions about the ADA and the interactive process of negotiating a reasonable accommodation. We can assess the situation and provide advice tailored to meet your specific needs. To make an appointment at Caietti Law Group, APC, call (858) 623-5644 or contact us online.