San Diego Employment Law Attorney
Wages and Overtime Disputes Attorney in Temecula, California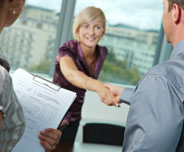 The San Diego employment law attorneys of Caietti Law Group, represent employers and employees in a wide range of employment law matters. With more than 65 years of combined experience, our skilled lawyers are able to offer highly professional legal representation founded in substantial experience in employment law cases. At the same time, as a small law firm, we can give our clients personalized attention — a service sometimes not available at larger law firms.
We have the knowledge and resources to handle the most complex employment law questions. We take a team approach to difficult cases, drawing on each other's knowledge as necessary. We also respect our clients' bottom line — saving time and financial resources are important to both individual employees and businesses. We work efficiently and propose legal solutions that will resolve a specific problem as efficiently as possible.
We encourage you to learn more about our employment law practice, our law firm and our attorneys. Or, contact Caietti Law Group to schedule a consultation. Call toll free (866) 623-5644 or contact us online.
San Diego Employment Discrimination Lawyers
Caietti Law Group represents employees and employers in employment discrimination negotiations, administrative claims and litigation. We have special experience in disability discrimination cases, including those involving claims of failure to reasonably accommodate, failure to engage in the interactive process, and disability discrimination where the ADA and workers' compensation intersect.
We also handle wrongful termination and harassment cases.
Caietti Law Group offers employment law consulting services to businesses throughout San Diego and the surrounding areas. We conduct sexual harassment and discrimination workshops, write and revise employee handbooks, and review wage and hour policies to help businesses comply with all relevant state and federal employment laws.
Temecula and San Diego Wages and Overtime Disputes Attorneys
State and federal wage and hour laws change frequently and are often counter-intuitive. Caietti Law Group helps employers make sure their wage and hour policies comply with relevant laws, and we represent employees whose employers violate wage and hour laws.
Contact Caietti Law Group
Whether you are an employee with questions about possible wrongdoing at work or an employer facing accusations from an employee, Caietti Law Group can help. To schedule a consultation, call toll free (866) 623-5644 or contact us online.