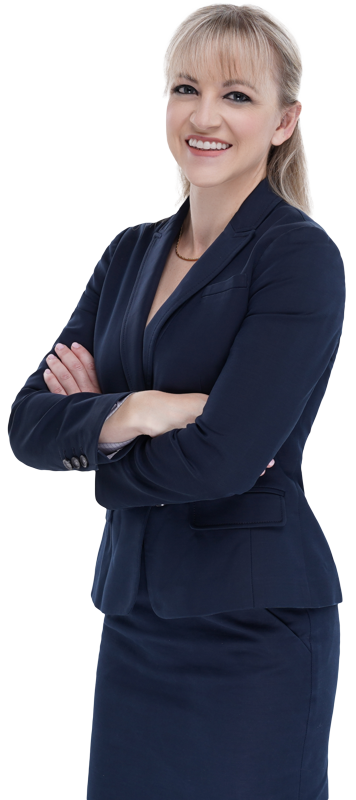 Kristin A. Kameen
Associate
Location: San Diego, California

Kristin is an Associate Attorney at Caietti Law Group, APC. She joined the firm after completing a Civil Rights Fellowship at the California Department of Fair Employment and Housing, where she investigated, mediated, and litigated complaints of housing and employment discrimination. Kristin has experience at all stages of litigation, representing employees, employers, and state agencies.
As part of her diverse employment law practice, Kristin has advocated for employees in state, federal, and administrative court. For employees and employers, she has helmed mediations, second-chaired trial, and managed cases from start to finish, including intake, pre-litigation investigations, drafting complaints, drafting and opposing demurrers, drafting written discovery of all types, conducting and defending depositions, preparing and opposing motions to compel, authoring and successfully defending against motions for summary judgment and adjudication, and trial preparation, including composing trial briefs, bringing and arguing motions in limine, and examining witnesses at arbitration. Kristin also has experience with post-arbitration and trial motions for attorneys' fees, among other issues.
Kristin has successfully opposed anti-SLAPP motions and successfully authored appellate briefs for employment matters.
In addition to serving as a dedicated litigator for her clients, Kristin also consults with employers and local businesses to advise on a broad range of employment issues. She has assisted employers draft employee handbooks, prepared policies specific to clients' needs, and advised on employee discipline, retention, and termination actions. She is well-versed in California's extensive employment statutes and regulations, assisting clients with compliance from the state to local levels. Kristin looks to continually expand her knowledge of California employment law, specifically San Diego rules and regulations regarding paid sick leave, minimum wage, and health and safety orders.
In addition to being an active member of the firm's employment law practice, Kristin also handles contested trust and estate planning and legal malpractice matters. Whether this involves reviewing trusts and wills or addressing negligence and breaches of fiduciary duties, Kristin works to assess problems or shortcomings in her client's prior representations and efficiently enforce a trustor or settlor's wishes and intent.
Kristin also works with the firm's broad range of technology to ensure an ongoing flow of communication with clients, whether in-person or through video conferencing and remote access software. Through file sharing applications like Dropbox or ShareFile and conferencing software like Zoom and Microsoft Teams, Kristin works to keep the firm on the cutting edge of legal technology and keep paperless correspondence a hallmark of her practice.
She is also a Fantasy Football champion and can be found rooting for the Padres or one of San Diego's many sports teams in her free time.
Bar Admissions:
California
Northern District of California
Southern District of California
Education:
University of California, Davis- King Hall School of Law, 2013, J.D.
University of California, Davis, B.A., Political Science, International Relations, French
Professional Associations and Memberships:
Member, State Bar of California, 2013- Present, State Bar No. 292574
California Employment Lawyers Association (CELA)
San Diego County Bar Association